We can do everything from bringing the power right from the street to getting your house wired and the lights hung. We can also do full renovation wiring in old homes.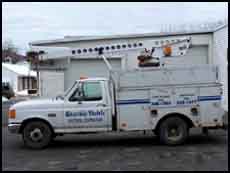 We do both overhead and underground electrical service installations. We can do overhead electrical work as well as help hang those Christmas lights or change those hard-to-reach spot lights.
Vermeer Trencher with a working depth of up to three feet or we can arrange for an excavator to do the work. We offer several lines of generators, service, and installation. We offer all name brand light fixtures and can recommend custom light designers. We also offer lighting installation.We have several small- to medium-sized portable generators for rent for any occasion such as power outages and camping.